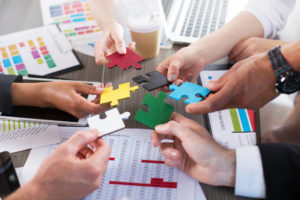 Objective
Our client, a vertically integrated communications provider operating in Australia and New Zealand, needed to streamline internal systems. Over several years they had embarked on an aggressive and quick acquisition cycle, with a final position of eighty-plus legal entities. The merger and acquisition strategy of previous management had resulted in three disparate ERP systems being used within the Group. The objective of the new CFO was to move all businesses onto a single ERP platform.
We were engaged to review the business operations and provide a recommendation report outlining best strategy to achieve the M&A integrations and system streamline objectives. This needed to include a recommendation on which ERP was best suited to all legal entities, as well as highlighting process inconsistencies or issues within both Finance and Operations.
Solution Delivery
We conducted a series of workshops in various locations with key staff. These workshops were a mix of general discussion, process mapping and ERP assessment. Many of these workshops highlighted inconsistencies within the various business streams, as well as giving staff an opportunity to air what they felt worked/didn't work. Through these sessions, we were able to understand the, at times, competing needs of the divisions and how the current environments operated.
As part of the process review, we documented interfaces with other systems, in particular external Billing and Accounts Payable software.
In a separate session with management and IT, vendor performance and system modifications were also reviewed and documented.
The reviews highlighted previously unknown business issues, specifically where legacy systems weren't meeting needs, interfaces had been badly designed, or use of legacy systems was lacking in data integrity.
On completion of all sessions, we assessed all the information and then determined and documented an Integration Strategy for the Group, detailing best fit ERP, roll-out requirements, vendor actions and potential process gaps.
Achievements
Our recommendation not only highlighted which elements of the new platform were required, it also gave a change management strategy. This enabled system administration and overall responsibility to move from a divisional finance operation to the centralised business system team.
The recommended strategy was to move all divisions onto a fresh instance of a currently used ERP. This gave all business units the same experience in a platform change. The instance was designed and configured to meet all business units' needs which resulted in a change in operation for the business units on that platform.
With the change in platform versions of the ERP, a renegotiation of the licensing and support was orchestrated. This resulted in improved support coverage for the ANZ operations and a cheaper cost per user for licencing.
Our recommendations regarding ERP consolidation were all accepted and we were engaged to work with the business on the software implementation and change management projects.
If you'd like to learn more about this project or talk to us, click here for our contact details.